The 100 Mbps laser-link technologies provided by Applewood Data Services Ltd provided a cheap cost efficient solution to connecting our existing office with a newly acquired office adjacent to our building in Sale Cheshire. Initially another FSO company had told us an FSO connection wouldn't be possible due to the East to West Sunlight factor.
On contacting Applewood Data Services Ltd through a recommendation they insisted they could provide a sound link and after a comprehensible site survey that the sunlight wouldn't be an issue. To prove it they offered us a 100 MHz system for 3 months on a free trail basis. A busy main road sits between both buildings other solutions such as cable and wi-fi were not possible given our timescales and budget. Another problem which occurred was the landlord of our new office block would not allow any equipment mounted on the building elevations.
Applewood Data Services Ltd would not be deterred and fabricated some tailor made brackets to sit alongside the air conditioning units on the roof to keep our landlord happy. Once these problems were overcome installation of the link took only two days and was operational by the end of the second day. Shortly after our PBX phone systems were adapted to share the link bandwidth and give us the ability treat both phone sites as one. Since installation, over 4 years ago we have saved in the region of £40K in leased line costs. The link has not failed once, not even one data packet has been lost that we know of which is a testament to the company and would recommend their services.
Paul Bailey, IT Manager, Anite Public Sector Ltd
Anite public sector are now looking to increase they're lease agreement and take the use of they're FSO system to 8 years of service. This FSO solution will have saved them an estimated £80,000 in dead revenue.
St Peter's have been using Applewood for the last six years. We have found them to be flexible, reliable and good value for money. They have always managed to accommodate our needs with their skills and services.
Paul Taylor, Network Manager, St Peter's RC School
We use Applewood Data Services Ltd for all our IP infrastructure work (data, voice, CCTV etc) From occasional new installations to larger projects, no job is too big or small and they are very flexible to our needs. Throughout our relationship they have delivered a consistently high standard and rate of work that is cost effective. I am thoroughly satisfied with the performance of Applewood Data Services engineers and I would not hesitate to recommend them to others.

We look forward to working with Applewood Data Services for our new build projects.
Steven Burrows, Network Manager, Wellacre Technology College
Thanks to Applewood Data Services for providing a great service. Your engineers are helpful, work to a high standard and have gone out of their way to accommodate us when jobs needed doing outside of normal working hours. Thanks again!
Julie de Burgh, North Western Deanery
We have recently seen work carried out in the Clock Tower at Birch Hill Hospital Littlebrough. We would like to bring to your attention the excellent way in which you staff did this work. They were as non intrusive as possible and cleared up immediately after they had finished the work. They were extremely well mannered pleasent and good humoured.
Susan E Jones, Diectorate Manager, Clinical Professions
Birch Hill Hospital required a connectivity solution for the Siemens Voice over IP telephony solution to the site in Littlebrough. As part (or most) of the site is to be sold off to private developers with in 2-3 years measures have to taken to insure the financial investment of The Pennine Acute Trust NHS is protected. Applewood Data Services Ltd was asked to design a solution for this project. RF connectivity was not an option as private housing was to be introduced in between the buildings required on the site. The following requirements were placed and solutions required:
Structured category 5e wiring to the Clock tower building. A pre-war hospital with many original aesthetics Applewood Data Services planned to make sure the fabric and integrity of the building remained intact throughout the installation.
New communications switching location required, to house the new Siemens telephone system and to integrate with the existing network protocol for the rest of the trust.
Connectivity required to the other buildings on the campus with no existing backbone cabling infrastructure in place.
In July 2007 Applewood Data Services Ltd successfully tendered and worked with the Trust and both Siemens to make a success of the installation of both network and IP telephony at Birch Hill.
For connectivity across the campus at speeds of 1Gbps or higher Applewood Data Services Ltd as being an official Geo Desy laser installer proposed 2 x gigabit optical laser links with fibre optic interfaces.
The 1st link (Giga Pinto 500 meter link) was to link the main maternity building and the second Giga Pico 200 meter link) to reach the "last mile" at the Floyd Unit.

IBM has been well known through most of its recent history as the world's largest computer company and systems integrator, With over 407,000 employees worldwide.
In November 2009 Applewood Data Services Ltd tendered and were chosen for our pedigree and flexibility to install the network infrastructure for the New Data Centre/Server Farm for IBM in Sale Manchester. Tight time scales were given and Applewood Data Services Ltd were under almost immediate pressure to deliver.
A specification was issued and very strict amount of space was allocated for inter cabinet connectivity which would require high density patching to ensure maximum connections with minimum units of space.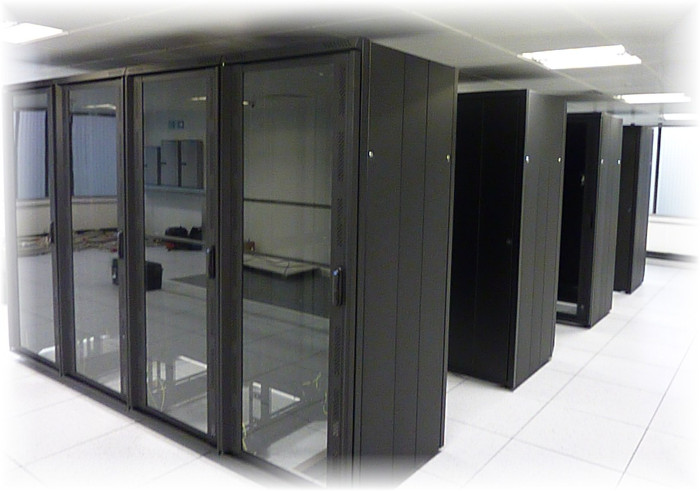 Partners

Connectix partners of Applewood Data Services Ltd for 6 years offered the NET10G category 6a (augmented) FTP cabling system to achieve the highest copper backbone speeds currently ratified. This was undertaken in pre-terminated format with all testing on the bench ensuring the maximum bandwidth.As an added incentive.
Connectix also managed to produce the solution at the category 6 costing's giving IBM a healthy saving on their investment.
For the fibre optic solution Applewood Data Services exceeded the specification once again offering Connectix Starlight pre-terminated fibre system with MTP connector. OM3 40Gbps fibre speeds can be achieved over this connection and it was deployed right through the project. Applewood Data Services Ltd Supplied, bayed, levelled and earthed 24 cannon server racks necessary cabinet accessories as specified for this project. The project was completed on time and the test results and warranties issued.